A Children's Book Series That Speaks To the Foodie In You
By Jamie Ruthenberg
A couple of weeks ago, I was at an art festival in Clarkston. A very kind woman stood in front of my booth, thumbing through a copy of my latest book, Miles and the Wren House Toad. When she flipped the book over to the back cover, her face immediately lit up with joy.
"There's the recipe to his mom's carrot cake! I love it! What gave you the idea to do this?"
Her question inspired me to write this, because I want to share with you exactly what I told her….
Why put recipes in a children's book series? Seems odd at first. However, family and friends that know me expect it. They know I not only love to create stories and art. I also love to create food! Truthfully, if I care about you, you will know because I will feed you. A lot.
It all stems from my early childhood in my grandmother's kitchen on the east side of Detroit in the 70's. My grandmother was from Sicily and she spent almost every moment of her day over a steamy stove, cooking the most delicious Sicilian staples—and everything was from scratch. She would clean up after making a meal, and immediately start the next one. I can actually smell her kitchen now, the air filled with homemade ravioli in chicken broth, stuffed artichokes with lemon and ammoglio, spaghetti and Sicilian meatballs, and the list goes on. And there was always, and I mean always, an abundance of homemade bread.
At six years old, I remember standing next to her and kneading dough all afternoon. We usually made about 20 loaves of bread in a day. (My grandmother raised six children and had no idea how to cook "small," even when they were gone.) I would always eat almost an entire loaf right out of the oven. It was heaven.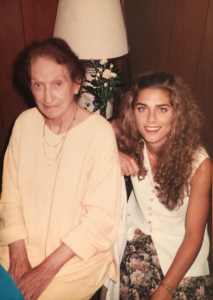 This is how I spent time with my family when I was growing up, especially with my grandmother, my mother, and my brother. We created food together, as we talked and laughed. The kitchen was the heart and soul of the household, and it has remained that way for me into my adulthood. It is one of the ways I spend time with the people I love, and one of the ways I show love. It's how I unwind and center myself. It's what I do when I am extremely happy, or especially upset. It's how I deal with life.
More recently, before I started the Miles Series, I ran across an old, beloved children's book of mine while I was packing to move. The book was published in 1971; it was in an old, musty crate in my basement. I looked at the title and smiled. Cranberry Thanksgiving, by Wende and Harry Devlin, was one of my absolute favorite books about a young girl and her grandmother. Her grandmother was famous for her cranberry bread. It won many local awards at county fairs and church functions, and the recipe was "top secret." The grandmother did not want a soul to know how to make it. It was her pride and joy, practically her identity.  She kept the recipe hidden behind a loose brick that bordered the old fireplace, and no one ever knew.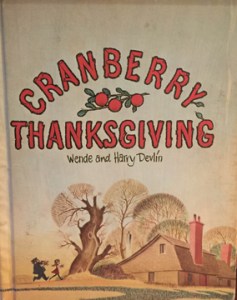 The pages of the book were worn and the cover beat up and dented. I stared at the cover for a moment with a smile and then turned it over to look at the back cover. There, on the back, was the recipe to the cranberry bread! It was as if I found some hidden treasure! I forgot how wonderful it felt to discover it! I hadn't seen this since I was seven years old.
Seeing this book inspired me to do the same in my series. To offer the recipe at the end of the story allows readers to experience what the characters experience, and taste the food they eat—to actually be a part of the story.
I've made this cranberry bread, filled with bright red berries and orange, every Thanksgiving and Christmas since the moment I found the book in my musty basement. It's now a family favorite.
I watch people's reactions when they see the recipe on the back cover, and it always makes me smile because I know how they feel. More importantly, my hope is that the recipes I share with you, through Miles and his experiences, become precious family favorites, recipes that you make together and share with the people that you love. I hope they become recipes that feed the soul.
JR
A Children's Book Series That Speaks To the Foodie In You