Miles makes learning a beautiful thing.

The Miles Educational Series is centered on a wonderful main character named Miles, who has integrity and treats others as he would want to be treated. His actions throughout the stories exemplify the themes in the series, such as peaceful conflict resolution, thinking before acting, seeking to understand, respecting others, generosity, charity, and friendship.
Heartfelt themes such as these provide a framework for discussion between parent/teacher and child about such subjects and others. They allow adults to explore, in an engaging way, why Miles chooses to treat others in the manner that he does.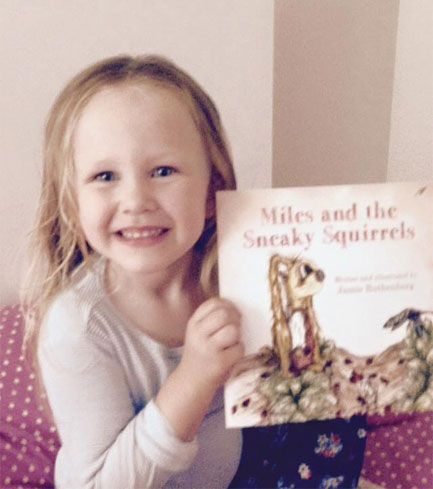 Teacher to Teacher.
Along with having heartfelt themes throughout the series, Jamie Ruthenberg constructed the books to be useful teaching tools in the lower elementary classroom. As a past certified teacher in elementary education, Jamie understands what a teacher is looking for in a children's book when teaching reading and writing. Specifically, she designed the books to be used to introduce and practice reading skills, text connections, and several writing genres.
The books are first designed for young readers who are learning how to read, ideally kindergarten through third grade. The text is carefully constructed and filled with sight words, and the illustrations are filled with picture cues to assist the students in their quest to identify and read each word on the page.
Second, the stories are designed to support teachers when teaching text connections, specifically text-to-self and text-to-text connections, which are known to boost comprehension levels. At the end of each story, Miles writes a hand written letter to the children, asking his readers to think about the kinds of personal connections they made to the text, and if they had ever heard or read a story similar to his.
Third, the letters written by Miles provide a useful example of the correct format of a letter and its components. For an integrated lesson plan, teachers can ask students to write a letter to Miles, discussing the different text connections they made to the story—a wonderful and engaging way to have students experience multilevel learning.
Finally, the series opens the door for teachers to discuss different genre elements. For example, in Miles and the Wren House Toad, Miles writes a short story, which allows for teachers to explore with their students short story concepts such as beginning, middle, and end, as well as the importance of incorporating details in their stories.
In Miles Finds a New Friend, Miles helps his friend, Gabriel, write a poem, providing yet another writing genre for student learning.